Meet Barbara Lee: The Standard for All Members of Congress
I love this woman. She is the only one who had the balls to stand up and do the right thing. She is an example of what is means to be a strong black woman. Standing up for what is right, even when you have to stand up alone. Kaperville salutes you!
Now, let's learn more about this patriot.
Barbara Jean Lee (born July 16, 1946) is the U.S. Representative for California's 13th congressional district, serving East Bay voters from 1998 to 2013 during a time when the region was designated California's 9th congressional district. She is a member of the Democratic Party. She was the first woman to represent the 9th district and is also the first woman to represent the 13th district. Lee was the Chair of the Congressional Black Caucus and was the Co-Chair of the Congressional Progressive Caucus. Lee is notable as the only member of either house of Congress to vote against the authorization of use of force following the September 11, 2001 attacks. This made her a hero among many in the anti-war movement. Lee has been a vocal critic of the war in Iraq and supports legislation creating a Department of Peace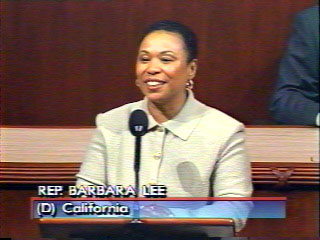 Lee was born Barbara Jean Tutt in El Paso, Texas, the daughter of Mildred Adaire (née Parish) and Garvin Alexander Tutt, a Lieutenant Colonel.According to a DNA analysis, she descended, mainly, from people of Guinea-Bissau and Sierra Leone. She moved from Texas to California in 1960 with her military family parents, and attended San Fernando High School in San Fernando, California. She was a young single mother of two receiving public assistance when she began attending college. Lee was educated at Mills College, and received an MSW from the University of California, Berkeley in 1975.
Lee has two grown sons, Tony and Craig, both of whom work in the insurance industry. Tony Lee is the CEO of Dickerson Employee Benefits one of the nation's largest African-American owned insurance brokerage/consulting firms. Craig Lee is a long term senior executive at State Farm.
In 2003, she was awarded 'special recognition' as a Woman of Peace at the Global Exchange Human Rights Awards in San Francisco with Bianca Jagger, Arundhati Roy and Kathy Kelly.
In 2010, Lee took the food stamp challenge and also appeared in the documentary film Food Stamped.